Xin Zhao Counter Stats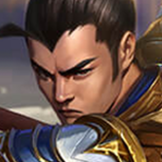 Xin Zhaothe Seneschal of Demacia | Ranked #33 out of 73 in Jungle
Discover all Jungle champions who counter Xin Zhao. Use our statistics and learn how to counter Xin Zhao in League of Legends and win in Champion Select! Xin Zhao Data for all roles taken from matches.
Tips
for countering Xin Zhao below
---
Xin Zhao Counter Stats From:

Please check back soon for detailed counter information. When new
champions are released we need time to gather their data.